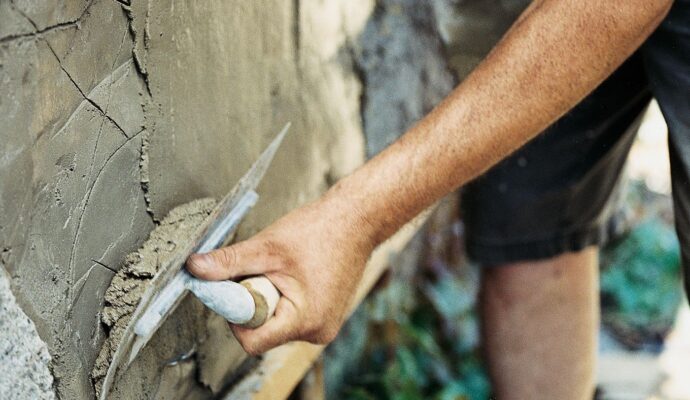 Stucco and EIFS is an option that is prevalent both outside and inside in the majority of homes in the United States. But, do you understand the meaning of EIFS? EIFS is an alternative siding that is similar to stucco. They have to know the differences between the different siding types discussed in this article.
Start by considering stucco. The composition of stucco is known by many homeowners to be water and cement mixed. Stucco has been utilized since the days of the ancient Greeks, even though many people of the day know it when they see both the outside and inside of houses. Formerly, people thought that this substance was weak, but artificial materials have been used to ensure strength. Even though it is priced reasonably when compared to other exterior home siding types, it looks like a stone that is expertly carved, making it an option that is advantageous for a lot of homeowners.
EIFS means exterior insulating finishing system but was not produced after the Second World War. Europe was the only location for getting this substance. It is not similar to stucco, which has a makeup of fixed chemicals. Even though they are made from human-made material used for purposes of insulation, different firms produce personal recipes for EIFS. Since thin coatings are applied for protection, EIFS is extremely efficient and lightweight when it comes to energy.
In the US, you will get EIFS on structures that were constructed in the '70s. From high rises and retail malls to single-family houses and condominiums, it utilizes cover for types of structures. Its promises for future popularity are high due to its ability to finish it artfully to appear and costly.
There are ramifications when you choose to side the home with EIFS and not stucco. One issue results from moisture seeping via human-made materials into the structure of the siding. In case you are thinking of adding EIFS to the siding of the home, it is good to check for issues of moisture that exist in the home before the EIFS. The other factors to watch for which may cause great damage to the house are mildew and mold when planning to put stucco and EIFS siding. You can employ contractors to inspect the damage to the home before affordable siding.
However, modern technology allows average homeowners to add a classy touch to the home minus getting involved in the stages of construction design, the expertise of the architect, or the great expense of tearing the wall down. Styrofoam quoins get covered in polymer and mesh-modified cement to ensure that there is durability and come in different options to suit the style and personality of the homeowner. They will not require or provide structural support and get adhered to the surface of the approved cladding like brick, concrete, stucco, and EIFS.
So how will you decide on the style of quoins you require? Below are some of the fun ways and options to determine what suits you.
Beveled Edge vs. Squared Edge
---
People that prefer simplicity and tidiness may opt to choose squared, ninety-degree edges. Beveled quoins will be more attractive to individuals who are laid back and enjoy softer looks that offer a gradual transition.
Spaced or Joined
---
Beveled quoins may get placed on each other without spacing, but both of them may get spaced apart. The spacing amount can be two inches, but the most common is fifty percent of the height of the quoin, which is six inches. Joint quoins appeal to those that prefer a sturdy look while quoins with space are indicative of people that feel have nothing to hide.
Chipping and cracking are common in areas with stucco and EIFS. With a novel home, it may be happening due to the frame of the home shrinking. In case this is happening in a home that is older, it may be because of outer elements shifting and moving and maybe from an application that is poor. Remember that if you desire to fix this once and for all, your house will have to be in a place where it no longer shifts. To fix this, eliminate extra stucco pieces. The best day for doing this is on a cloudy and cool day. Mix a bag of cement with a few sandbags. Add water when you are ready to start applying. Add water to the damaged location and apply a mixture with the help of an old sponge or brush.
Here is a list of our services you can get at Palm Beach County Concrete Contractors:
Here are our additional services throughout Palm Beach County