Concrete Grinding Services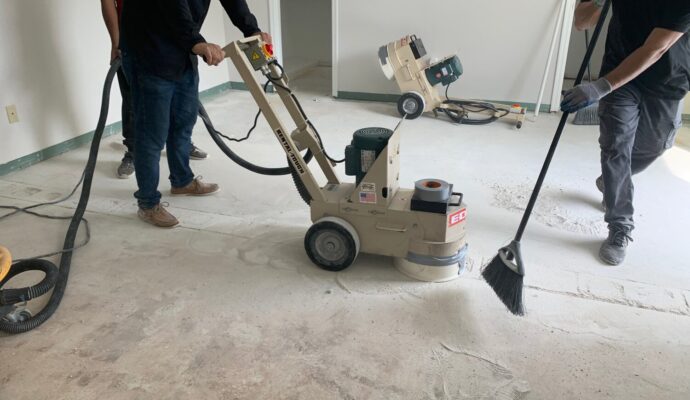 Perhaps you possess an old concrete floor in the home or business that is no longer looking attractive. You may choose to have it repaired and given a contemporary finish. This will do wonders for your business, transforming the feel from appearing like an old, damaged garage to a polished, gleaming, shiny floor. But how will you find a firm you can trust with the investment?
To begin with, look for a firm that will give you references. Make sure that you see their previous job. If they are showing established clients that are happy with results, then you know that that has a chance of obtaining quality results. Firms have to be proud of the results and glad to show previous jobs and even allow you to talk to their clients.
Secondly, you need to know the method the firm is going to use to approach your job. If they have the ability to explain this to you, then you know that they possess an established process for dealing with your task. You do not want an individual doing your task the same as if it was newfangled concrete.
Does your company promise unrealistic results?
---
With concrete that is polished, many depend on original materials to work with; the concrete floor that you have already put in place. The concrete grinding company needs to have the ability to determine the concrete type you have and the method you are going to use to treat it. 
If Palm Beach County Concrete Contractors claims to produce new results, whatever the kind of original floors, then you need to look at their past jobs just to be sure. You are in the market for a company that is honest with you, and this can only be done by seeing their previous jobs.
Does the firm have approved materials and proper equipment?
---
The equipment quality used for concrete grinding has so much to do with the quality of finished products. In case you utilize a contractor with his business with cheap materials and subpar grinders, you are going to get poor results. Conversely, the company should take the time to invest in expensive, top-notch equipment to produce results that will satisfy clients. This contributes to the growth of the company.
Does the firm have the right insurance?
---
Polishing and grinding down concrete floors carries some amount of risk, just like any other project. You need to be sure that the firm will have the ability to cover unfortunate accidents to the whole property, and you will not bear the charges of someone getting hurt.
What warranty does the firm offer?
---
Is there any guarantee of satisfaction? For instance, would you negotiate for a discount if the achieved results are below the promised? What is the length of the guarantee of the results? A concrete floor that is polished has to last for years; therefore, if it has defects, the company has to come to do repairs. At the minimum, the firm has to offer a method of ensuring that you get satisfaction and get quality results.
The contractor must have the ability to meet deadlines. Some work has to be done on time. Small destruction can be overlooked but do not employ a lazy individual trying to be late at all times. Make sure you sign a contract with a contractor. Keep visiting the site daily.
You need to make sure that the concrete grinding contractor understands what you require. In case the destination is unclear, you have to pay more, and will take more time. The clarity in the description of the project will result in quick results and fine work.
Projects of concrete grinding are included in many home construction projects. However, it is advisable for the home constructor to carry out this task on your behalf. When starting to build your home, ask the contractor whether they have an interest in doing a home renovation or remodeling after a few years. If they are willing, then it is good. There will be no need of finding a new contractor for your job.
In most cases, concrete grinding projects do not take long as most work is done during the construction of the home. However, if the home is undergoing a complete renovation, then it may require fifteen days. It also depends on the grinding work job. After finishing grinding, you can embark on other decorative tasks for the floor.  
Here is a list of our services you can get at Palm Beach County Concrete Contractors:
Here are our additional services throughout Palm Beach County