Epoxy Floor Finishing Services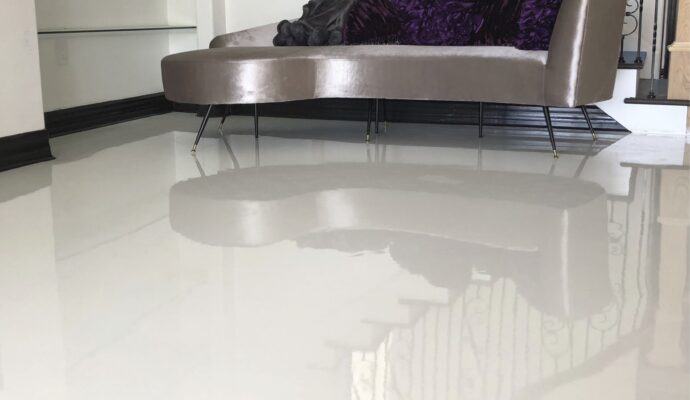 Epoxy floor finishing is known to be a strong glue type that provides its users with high-level properties of bonding. Epoxy is seen as a thing that is extremely superior to many paste-style types of glue. Epoxy is a material that is extremely superior to other styles of paste glue. Components of epoxy are sold in packages that require mixing before use. The components are hardeners and resins. Many commercial and industrial buildings use epoxy floor finishing in their facilities because of the many safety and saving benefits it offers the users.
While concrete may seem virtually indestructible, it is not impervious to some damage types, including cosmetics like staining and cracking. This will end up ruining the overall attractiveness of your floor. Concrete is quite porous and can absorb salt, dirt, oils, and chemicals, making it hard to clean the concrete of the floor in the right manner. When you apply an epoxy coating to your concrete, it makes sure that it is protected from possible damage. Epoxy floor finish from Palm Beach County Concrete Contractors has a high-gloss finish that can increase the reflectivity of light by two hundred percent. It will seal the porous surface of concrete and render it proof to stain. Epoxy flooring is simple to clean since there is nothing to hold pollutants.
Due to epoxy's chemical structure, it is very durable and scratch-resistant. Unlike paint that is latex-based, people using resin-based epoxy products do not require repainting their floors every few years. One coat of solid-based epoxy floor finishing can last for a lifetime. The main thing is that this flooring will bond with molecules of cement in the floor to provide results that will last for eternity.
The bond between molecules is stronger than the adhesion offered by other paints, including latex-based and enamel paints. This makes it good to use in locations that experience heavy traffic from feet or heavy machinery.
Epoxy floor finishing is found in different locations including garage floors, and basements, indoor patios, restaurants, indoor patios, retail stores, laboratories, manufacturing facilities, and hospitals, all of which require durable, strong flooring. Some owners of the home want the floors of their kitchens to be formulated with coated epoxy. Apart from the durability that comes with these floors, they can withstand damage by floor cleaners, but the laboratory has epoxy floors and spills of chemicals, which will end up ruining the floors.
Epoxy floor finishing is quite affordable as compared to other floor finish types including vinyl, wood, tile, and carpeting. Polyurea pains cost up to four times more than the epoxy amount of flooring and business owners, and homeowners do not see benefits from added costs. It is very economical, and because it stays for a long, this flooring is the best investment to make. Women and men will not require periodical touch-up jobs due to the effects being long-lasting.
Epoxy floor finishing coatings are simple to maintain and clean. The impact from salt, oil, traffic, and chemicals in garages, industrial and commercial facilities are hard to remove and expensive to repair when untreated. It is time-consuming, frustrating, and expensive to accomplish this task.
Manufacture Care
---
Epoxy floor finishing is definitely worth the investment. They come in different styles. They come in top items that are impermeable. These floors can be purchased in finished and finished later states. 
It is dependent on the taste of the homeowner and the plan of the interiors. You cannot find two similar flanks because they are handmade by the use of classic methods. The floor will look graceful when every coat is attended to by the manufacturer. Top manufacturers develop top options. Do not just choose anything but the best styles.
Many Options
---
There are several epoxy floor finishing types available on the market. You will not notice a lot of imperfections, especially when the project is over. The floor will get tainted or can give them a typical look. It also depends on the taste of the individual business or homeowner. Epoxy floors come with so many options to choose from like the shiny or matte finish, length, width, and stain color of the planks, and the distress degree. A few homeowners prefer individuality and indiscretion for items containing knots, mineral marks, and the highly apparent grain. Others prefer to go for finer looks with looks of mild distress.
Here is a list of our services you can get at Palm Beach County Concrete Contractors:
Here are our additional services throughout Palm Beach County