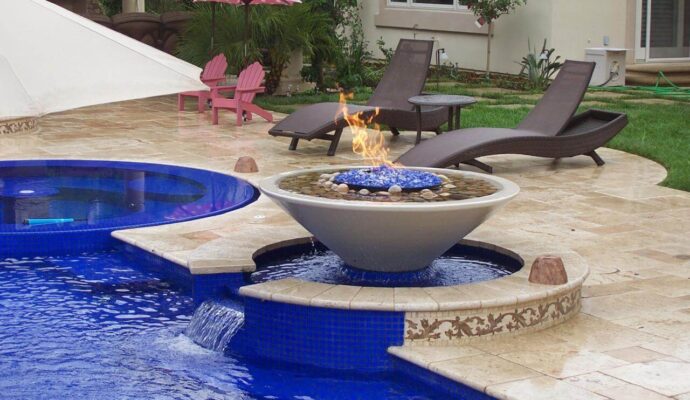 Basically, a swimming pool has components like the basin; pool spillover bowl, motor jump, chemical feeder, water filter, returns, drains, and PVC plastic plumbing for connecting these elements.
A good pool should have these elements so that water moves continuously from the filter, and cleans, at times via the heater so that it maintains a regular temperature. The water gets cleaned consistently by the use of chemical feeders with the assistance of chlorine because it keeps the water free from bacteria.
Custom Concrete Pool Spill Over Bowl FL
---
Most individuals see the pool and think that it is very important in the setup, but in the real sense, other important things are filters, pool spill-over bowls, and pumps. The pump room is crucial as it maintains the quality of water. There are other issues you may face while doing your pool. They include;
When to dig the pool
---
Contrary to the normal thought, summer, and spring is not the best times but winter is the best time for digging when the ground is soggy. It is hard to dig and tricky for heavy equipment.
Caving sides
---
The sides of the hollow must be sloping so that they do not cave in. the right ratio needs to be one vertical foot for every three horizontal feet. You may use steel reinforcement to keep the pool in the right shape and maintain the level of the pool spillover bowl.
Do a great pool
---
You can lay the best drain system at the lower pool end slanting towards the pool spillover bowl for the water to flow with ease through the drains. You need to cover the drains with grates so that when you are swimming, the hair of people swimming will not be caught in them. A strainer gets attached to the mouth to catch any debris. A good pool needs powerful pumps to help the water to flow in the filter and chemical feeder in the swimming pool.
Filters and high rates are the best filters for cleaning the water. They utilize sand to clean the water of any present debris and then get to the pool spillover bowl. Other pools may use diatomaceous earth filters or cartridge filters. The filter will clean fine debris particles. In a pool, it is ideal for water to pass after every thirty minutes, and six hours for the largest ones.
The filter and pump need to have a direct connection to the pool spillover bowl and freshwater line. Sodium hypochlorite and calcium hypochlorite make good cleaning agents. The automated chlorine feeder has to be hooked to the filters to get the right chemical filtration.
Sodium bicarbonate and sodium carbonate need to be used according to requirements, to control the pH from 7.8 to 7.9. The water has to get back to the pool via the pool spillover bowl back to the pool. Your pool requires the best pumps, drains, chemical filters, and filters.
Here is a list of our services you can get at Palm Beach County Concrete Contractors:
Here are our additional services throughout Palm Beach County