Pool Deck Resurfacing Near Me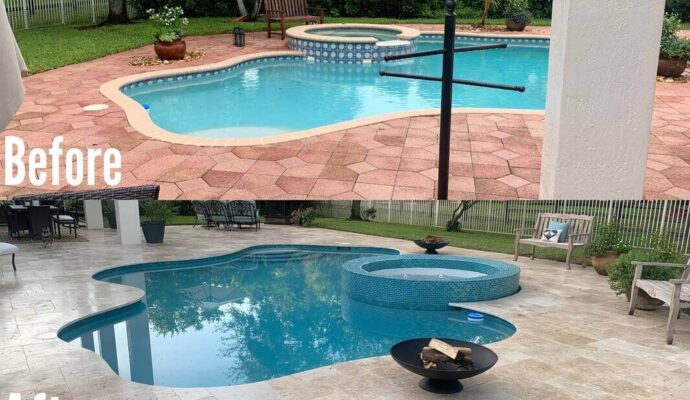 The deck typically refers to the area that is surrounding your pool. You can expect a lot of water spillages in this area because the pool is always full of water. Therefore, you have to design this surface in such as way that it is resistant to spills. A slippery pool deck surface can lead to several falls and ultimate injuries. Therefore, you need a surface that is not only aesthetically pleasing but also safe for all home users. At this point, pool deck resurfacing comes in handy. It will give your surface the features that will make it highly functional.
You can decide to go for a DIY so as to save on labor costs. However, make sure you possess all the required professional skills before you embark on the task. You don't want to produce shoddy work that is not going to stand the test of time. Pros charge for their work but you can be sure of getting high-quality pool deck resurfacing. They work quite well especially when you are dealing with large pool decks.
There are several materials that you can use on your pool deck resurfacing project. However, it's critical to understand the pros and cons of each pool deck resurfacing material to be able to make an informed decision. It will also give you the option of weighing the available materials and knowing the best way to take care of your pool decks. Let's take time and look at some of the most common deck materials.
Concrete: This material is highly versatile and it enables you to enhance and bold it the way you want. Concrete is easy to maintain and comfortable to walk on. However, you need to texture this material through stamping and brushing to render it slip-resistant. You can also improve the slip resistance of concrete by adding an aggregate.
Brick: This is a timeless material that has easy installation and durability properties. Brick comes in various colors and terra cotta is the most popular one. The challenge with brick is that moss likes growing on it and hence call for regular maintenance.
Pavers: Pavers are affordable and can last you for a long period as long as you install them properly. It is very easy to repair damage on your paver pool deck resurfacing. You will simply remove the damaged piece and replace it with a new one. Manufacturers will tell you that interlocking pavers are frost-proof. You have to set up a frame or border before installing the pavers so that the pieces don't shift.
Wood: There are so many varieties of wood that you can choose from. Wooden pool deck resurfacing also comes with several design options. The challenge with wood is that it is a high-maintenance material. You have to regularly clean and reseal it, especially when dealing with a wood deck.
Stone: There is a broad range of stone sizes and shapes that you can choose from. You can use it rough and raw but you can also flatten it a bit to get a more level surface. The challenge with stone is that it is not readily available everywhere and you may be forced to ship it from another state and this will raise the costs.
Tiles: As a pool deck resurfacing material, tiles come in a broad range of designs, shapes, and colors. The selection is so wide that it is impossible to fail to get one that will match the theme of your home. The challenge with tiles is that they have a smooth surface that can be quite slippery when wet. You need to go for unglazed types or use a sealer that is mixed with an abrasive to seal them.
Artificial Turf: All the green glory of artificial turf makes it resemble real glass and it will stay this way forever. The material needs minimal cleaning and it conserves a lot of water because it does not need it. You have to be extremely careful as you choose the artificial turf. Inquire about what it is manufactured from to be sure that there is no inclusion of harmful ingredients.
Here is a list of our services you can get at Palm Beach County Concrete Contractors:
Here are our additional services throughout Palm Beach County