Concrete Polishing Services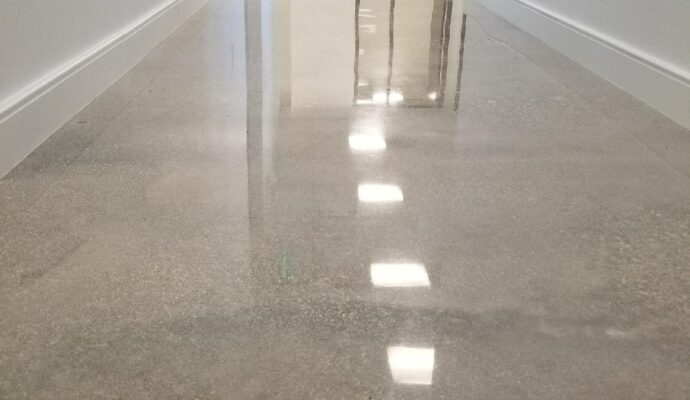 Just like any other pragmatic thing today, concrete polishing has become trendy among recent builders. Formerly utilized as a sub-floor that was covered with flooring deemed apt for display like tiles, wood, and marble, concrete has of late taken a visible role of being a versatile stage on which the house pieces can be showcased. But the utility of concrete has not stopped in homes, as large areas of high traffic like hotels and malls have adapted to their use since polished concrete proves to be sustainable and practical for extended spaces also.
The main reason why concrete polishing has grown in the market today is that it is cost-effective to stick concrete floors as a floor surface. In the place of having concrete as the sub-floor, polishing it and utilizing it as finished flooring saves you costs regarding labor and materials that you would utilize if you chose another flooring layer for your floor. Add that to the fact that concrete is easy to enhance, adding or staining different aggregates to the concrete before polishing will give it another look.
Concrete polishing done by Palm Beach County Concrete Contractors will give your concrete versatility. Professionals here will change the appearance of concrete to suit your taste. It may be changed to look like the counterparts by adding some staining to imitate marble or adding colored aggregates and pigment to make it seem like terrazzo, and you will have a gorgeous floor for half the price. It is all dependent on the grade and quality of the utilized concrete and the way it is poured.
Depending on the process of concrete polishing, it is possible to control the sheer amount that the floor will have. With some imagination and a lot of craftsmanship, the concrete floor can be made to seem just the way you want it.
After finishing, it would be unnecessary to do maintenance on the polished concrete. In case it is buffed to shine, the concrete floor would not need waxing or any other chemicals for the maintenance of its sheen. After sealing, the regular maintenance of the flooring concrete entails mopping it with soapy water twice a week to keep it clean. Nevertheless, you will have to wipe spills promptly with a rug to avoid staining. Buffing the concrete after two years with impregnated diamond pads will help keep the floor shiny as the first day.
The definite advantage of concrete polishing over other surfaces of flooring is its longevity. Floors of linoleum can last for three years in good condition, good carpets can last ten years with little traffic, and vinyl can go for seven years when cared for well. The polished concrete, nevertheless, can last for many years with minimal upkeep between the years. Coupled with its inherent sustainability, the ease of diverse design, and access options, concrete polishing floor surfaces have become very practical for many home builders and homeowners.
Concrete is a cheaper and more practical flooring option, especially over linoleum, tile, carpet, or hardwood. Even though it is not considered an interior asset, this concrete is making a comeback. Therefore, what does polished concrete seems like and why is it a good option for commercial and residential flooring? Durability is the first answer.
Concrete is extremely durable, which is a reason for it being used diversely among foundations and new developments. After polishing, it seems glossy, smooth, and glossy. It is a floor that is looking luxurious and costs less to install, polish, and treat.
It does not need extensive care, replacement, upkeep, maintenance, or refinishing; as well as utilizing disinfectant treatments, and much more. It can be customized with patterns, designs, and grid lines. You can also color them to resemble polished stone, tile, or marble.
This novel technology allows the homeowner and general contractor to produce beautiful and shiny flooring at a cost you can afford. They accomplish the polished and glossy concrete finish by grinding the concrete surface down to eliminate unevenness and then creating a finish that is smooth. They do this with the assistance of the polishing machine. The process is similar to sanding wood.
These machines are remarkable equipment, using discs and blades from shattered diamonds to grind the surfaces. The high-tech sand-paper technique is what creates a smooth and flawless finish. Alongside concrete polishing, this is a novel technique being experimented with called acid staining. The acid staining technique allows for intricate colors and designs to be added to the floor.
Here is a list of our services you can get at Palm Beach County Concrete Contractors:
Here are our additional services throughout Palm Beach County