Affordable Commercial Concrete Contractors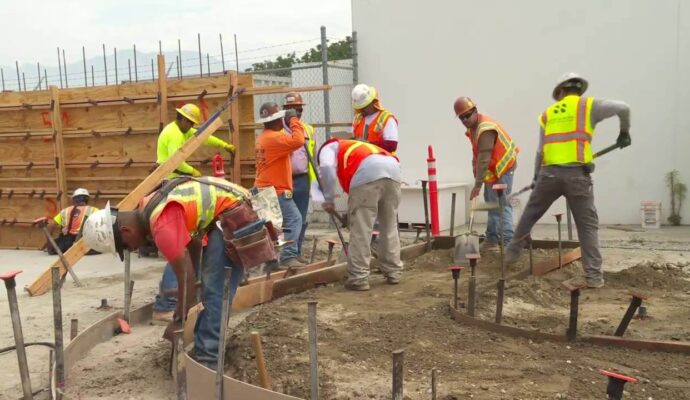 If you own a commercial building, you will definitely need the services of commercial contractors at some point. You can have some concrete work either in the indoor or outdoor space. Even though we have people who like to do concrete work by themselves, it is good to choose experienced people to work on this task. You can save some cash in the short run but end up producing poor-quality work. A substandard concrete surface may call for expensive repair work in the long run.
DIY projects can result in ugly surfaces that are not durable. You may end up spending more than you would have if you hired professionals in the first place. A company like Palm Beach County Concrete Contractors offers high-quality commercial concrete surfaces that come at an affordable rate. It is better to entrust this work to the hands of a contractor who will deliver a professional job.
Several benefits come with hiring commercial concrete contractors. The challenge with most people is that they are not aware of these benefits. Let no one cheat you that hiring commercial concrete contractors is a complicated and expensive deal. Even though we have companies that charge a lot of money, you will also come across some that offer affordable prices without compromising on the quality of work.
Getting a good concrete contractor should not take you a lot of time. The most important thing is to make sure that you get a trusted commercial concrete contractor. The prefeed professional should be able to deliver high-quality work at a reasonable price. 
You could begin searching locally and ask your friends and relatives for any recommended brands. You will discover that they have used some of them in the past and have the ability to deliver exemplary results.
It is a wise move to choose certified commercial contractors instead of going for your buddies who could have done some concrete work. It will make sure that you are getting a highly qualified contractor. An experienced professional will put the right precautions into consideration before beginning the work. Let the concrete contractor prove his or her certification. The best professional will always post these details as part of their displays on the wall. If you discover that the contractor does not have anything to display, you need to think about hiring another professional. It will help you to avoid several liabilities because professional brands have insurance coverage for all their contractors. 
Also, go through the portfolio of commercial concrete contractors to gauge their ability. You have to be comfortable with their past results before you trust them with more work. The best contractor will be proud of his previous work and will want to display it to his or her previous clients. It will display their capability to potential clients.
The good thing about commercial concrete contractors is that they know their stuff. These experts have the right educational background and experience in everything that they need to do a good job. They have a lot of information with regard to the environment, materials, and other technical factors that all make a big difference. You should not entrust your work to the hands of a person who does not have previous experience in the industry.
The good thing about commercial concrete contractors is the fact that they work as a team to complete your work in good time with a high level of efficiency. Having a team of experts who have the required experience will leave you at ease as you know that they will do your job properly. Handling commercial concrete projects personally without previous experience can result in several complications. You may end up wasting a lot of time and money.
To avoid such headaches of wasting time and money, choose professional commercial concrete contractors to get the best results. The market has a long list of contractors who offer high quality and give you a limited guarantee. Therefore, if you face any challenges within the stipulated timelines, the company will repair the work at no extra cost. Your friend will do nothing if something goes wrong with your concrete surfaces. Palm Beach County Concrete Contractors falls among the best brands in the region.
Here is a list of our services you can get at Palm Beach County Concrete Contractors:
Here are our additional services throughout Palm Beach County