Concrete Overlayment Services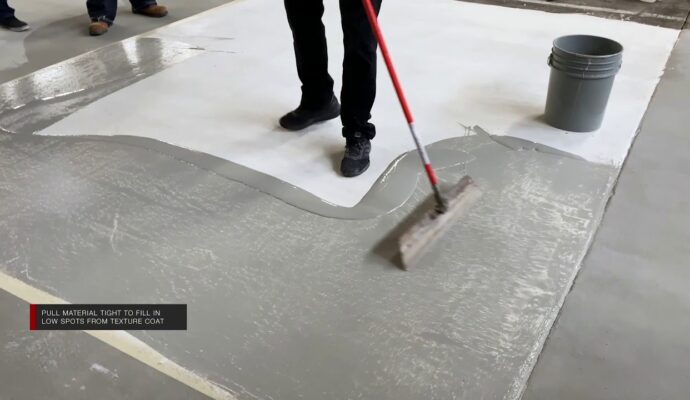 In case you have looked outside the window at your stained, dark, and cracked driveway and started thinking about replacing it, then this article is for you. Many people think that the solution to concrete that is damaged is removing and replacing it. However, there is another option that involves putting in a new concrete overlayment.
Concrete overlays come in different fashions and forms and are referred to by different terms according to the contractor. It is sometimes called concrete coatings, concrete resurfacing, and decorative concrete, all of which mean the same thing. Different applications that can be installed include slate textures, splatter textures, micro-topping, stampable overlays, and urethane/epoxy coatings. Every application adds its special characteristics and advantages to the project. For instance, you will not wish to repair the driveway with the coating due to the lack of UV stability and its sleek nature. Nonetheless, the stampable overlay or splatter texture would perfectly serve this purpose.
It is upon the consumer to decide the damage type they want to remedy, the look they want to achieve, and the budget of having to do so. An application that is budget-friendly is the slate trowel or splatter texture. These coatings are very thin; therefore, they use less material, but when it comes to strength, they exceed the overall strength of the concrete that they are coating.
The stampable overlay can achieve a very close look to natural stone or pavers; however, they come at a price that is double the previously mentioned. There are several colorization methods for all applications. Cement-based products that are modified by polymers have added color integrally or can get stained after using various techniques of staining.
Regardless of the overlay, you are using to install; the most crucial aspect is the phase of preparation. Such products include hybrid polymers with a very strong bond and are applied to the properly prepared substrate. It means that the surface has to be pressure washed and cleaned with 3500 psi. Additionally, surface grinding or the acid etch will be performed depending on the used product and manufacturer specifications. What this process does gets negated or when the previous coating is not eliminated before the application of the overlay will fail each time.
It is unfortunate that in the decorative concrete business, there are so many companies and individuals claiming to do all types of installation. Many of them do not have training in the right if not desired techniques and are not licensed for that matter. This is quite common when you need to contact another company to fix mistakes from someone else. It is sad to know if that was a mistake, but that is a matter of not having an interest in doing the right job or not having the right tools for the job.
Being a consumer that is educated will help you make the right choices when making bids for the task. Ask Palm Beach County Concrete Contractors how he is planning to prepare that surface and the equipment type he will utilize to do that. Also, ask about the type of product he will utilize for the job. Most importantly, make sure you see the license number of the business, workers comp paperwork, and liability insurance info. These three may have the contractor running out of the door.
Although concrete overlayment, like the stamping of cement, is used to do imperfections repair in the flooring, the utilized technique is different in fewer subtle ways. These decorative overlays get placed on the current concrete flooring to give it a polished and elegant look. The best thing is that with this overlay, the floor becomes very durable when compared to ordinary concrete. It allows the floor to withstand more pressure as compared to standard concrete floors.
Overlays are preferred when the condition on the current floor is not very bad. These overlays are available in many designs and colors that could make it easy for homeowners to select an option that can complement their home.
Although both concrete overlayment and concrete stamping is used to improve the factors of aesthetics of the floor, the overlays often require more maintenance and planning than stamped concrete. As you can realize, there are so many methods of achieving the desired results that you are looking for. You need to remember the pricing of ripping the foundation compared to restoring the current foundation.  
Decorating Your Concrete Overlayment
---
Regardless of the needs of your residential area, concrete overlayment companies can provide coatings, overlay options, and concrete resurfacing to meet what you need. Firms can apply diverse methods and products to come up with homes that they can be proud of at no cost. Areas of residence have so many concrete surfaces in walkways, pool decks, front entryways, pool decks, basement floors, sidewalks, driveways, sunrooms, and garage floors.
By use of concrete resurfacing, overlayment coatings, or options from firms will enhance surfaces of the home enjoys and enhances surfaces that are newly constructed. For locations like garage floors that house toys, bikes, cars, and work materials, epoxy floors are decorative resurfacing options for your residence. Applied to floors of the garage, concrete overlays, with pleasing colors like blue, orange, grey, and yellow protect against dust, chemicals, and vehicle traffic stains.
For the exteriors of the home, decks, and pools often require resurfacing, sealing, or original coating. With these resurfacing, coatings, or overlay options, companies provide inexpensive means of correcting issues like slippery decks, chips, cracks, and uneven decks. Pool decks that are newly laid can be revived via stamped concrete, epoxy rock, exposed aggregate, patterns, stencil, and salt finishes.
Sunrooms, patios, or exterior rooms can benefit from overlay options, concrete resurfacing, or coating. Things like the sundeck spray texture can resurface an area with the concrete coating. The coat can be the classic effect or can include aggregate effects, masonry effect, and scoreline effect. The palette of color include terra cotta, Cumberland, pewter gray, bone white, smoke gray, brandy wine, brick red, Franciscan tan, slate blue, Mojave desert, Peking blue, and oyster white.
For other decorate concrete overlayment, basement floors, front entryways, driveways, basement floors, garage floors, and walkways can benefit from effects of overlays, options of concrete overlays, concrete resurfacing, and concrete coatings. They can get attuned to match both the exterior and interior decor. This process adds a quarter an inch thickness and gets combined with mats, stencil, stains, or colors that include golden harvest, antique moss, coral reef, amazon palm, midnight, dark chocolate, and sienna rust.
With concrete firms utilizing acid stain, it becomes possible to enhance your present concrete by adding a variegated and translucent coloring. The colors of the stain include cafe mocha, palm green, sun-baked adobe, old English ivy, camel, Santa Fe red, midnight cafe, and gold rush. Therefore, whether you are resurfacing the pool deck, restoring concrete, coating, repairing, or adding concrete toppings or concrete overlayment, the possibilities of decorating your interiors are endless.
Making the Home More Attractive With Concrete Overlayment
---
When many people think about concrete, they start thinking about gray, dull floors. This flooring type is common in warehouses, but retailers utilize concrete as a measure to cut costs. It is more affordable when compared to linoleum. After saying that, concrete does not need to be boring and dull; concrete overlayment is a cost-effective way of getting a floor that is beautiful. This option is good for all establishments, the home being one of them. The cost of engineered concrete layers is similar to tiles and its results will amaze you.
Many wealthy people have beautiful floors at home. The floors are made from marble. Marble is both inexpensive and beautiful. In case your original goal was going for marble flooring but the costs are high, there are firms that can formulate concrete overlayments and resins that mimic marble at affordable prices.
The polymer is then used to bind the overlay to the current concrete, allowing concrete properties to change so it not to crack with temperature and humidity changes in the home. The most crucial thing is that the process allows concrete to get the shimmer, color, and look of marble.
You can lay concrete overlayment in dissimilar thicknesses; you can choose to go with the thickness of a credit card to a few inches. When mixed properly, the polymer and concrete will stick to the slab for many years. The floors above the warehouse stores have concrete overlays on the slab. The overlay will give the top layer of the concrete its shine. These floors are known for their durability, standing up to wear and tear, and abuse. They are also resistant to UV exposure, salt, and chemicals, which makes them perfect for outdoor use also.
In modest homes, there is a new trend arising, and that trend is utilizing the concrete overlay for the countertop. Since it is strong, and the overlay possesses the potential of mimicking other materials, the end result is a countertop that is durable and looks expensive. There are homeowners that stain concrete due to the looks but others will opt for overlays to get the looks of marble. While marble and granite make great countertops, none of them provides the strength and durability of concrete. When you compare it to marble and granite countertops, concrete showcases resistance to stains and odors.
Here is a list of our services you can get at Palm Beach County Concrete Contractors:
Here are our additional services throughout Palm Beach County